| ...... | |
| --- | --- |
| | |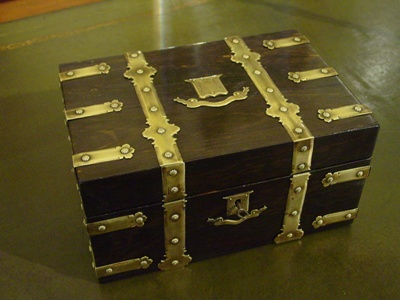 Stock no: 90160

A mid Victorian brass bound coromandel wood jewellery box  - the top with vacant armorial plaque opens to reveal two  removable trays. The lock stamped Chubb 57 St Paul's London". In 1827 Chubb opened it's first London premises at 57 St Paul's churchyard and remained there at that location until 1877 before moving to 128 Victoria Street London . The hinges stamped "WT&S Improved" - the firm of William Tonks & Sons was established in 1789 as a maker of wood screws and small work and remained in business as a maker of hardware and building products through the mid-1990's, when they were purchased by Ingersoll-Rand.
During the reign of Queen Victoria, Coromandel was considered one of the most exotic, luxurious and expensive woods to work with and it was the veneer of choice for some of the finest boxes.
Coromandel wood was sourced from India and South East Asia and was an incredibly dense, close-grained wood. Visually a more vibrant and figured (patterned) variety from the Ebony family, the actual species of Coromandel became virtually extinct by the beginning of the 20th century. Today, the nearest relation to Coromandel is Macassar Ebony.
10"w x 7"d x 5"h

Circa 1870
£345

Due to our large selection of  furniture we are unable to display all of the items in stock .
If after looking through our web site you can't find what you are looking for
Email us at: enquiries@gatewayantiques.co.uk and we will get back to you with a picture,
sizes and any other information that you require. 
Copyright Notice
All pages contained within this site, inclusive of images and text are copyright © 2011 Gateway Antiques,
unless otherwise noted. Reproduction without direct written authorisation is prohibited.
Terms and Conditions of Use
This site is provided with no warranty of any kind. Gateway Antiques are not liable for any misinformation
or errors contained within the site. Errors and Omissions Excepted.