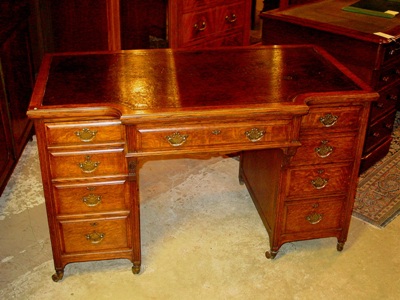 Stock no: 70320
A late Victorian oak breakfront kneehole desk by "James Shoolbred" of London – original brass handles to the oak lined drawers. Shoolbred's stamp can be found to top of central drawer along with their enamel maker's label to rear of central drawer front.
48"w x 29 ½"h x 23" deep / 26 ½" (middle)
James Shoolbred & Co or also knows as Jas Shoolbred was established in the 1820's as a draper's shop, at Tottenham Court Road, London. The company first began supplying textiles to the furniture trade. By the 1860's, the company began designing, manufacturing and selling its own high quality furniture in their thriving and fashionable furniture shop. By the 1880's, Jas Shoolbred had expanded to such an extent that the business had to move to larger premises, becoming one of the first large department stores in London, who would supply quality antique furniture and accessories for the Victorian home. The furniture was displayed in a series of catalogues that the company produced every year with their new and impressive designs. James Shoolbred's furniture was always displayed and photographed alongside the textiles, carpets and other accessories that the company sold, creating an example interior design for customers to view. Jas Shoolbred was granted a Royal warrant by the mid-1880s and their Victorian furniture was of the best quality available of the late Victorian period. Unfortunately, as with most great Victorian designers and furniture makers, James Shoolbred & Co didn't survive the financial crisis of the late 1920's and ceased trading in 1931.
Circa 1900
£1,285


Due to our large selection of  furniture we are unable to display all of the items in stock .
If after looking through our web site you can't find what you are looking for
Email us at: enquiries@gatewayantiques.co.uk and we will get back to you with a picture,
sizes and any other information that you require. 
Copyright Notice
All pages contained within this site, inclusive of images and text are copyright © 2011 Gateway Antiques,
unless otherwise noted. Reproduction without direct written authorisation is prohibited.
Terms and Conditions of Use
This site is provided with no warranty of any kind. Gateway Antiques are not liable for any misinformation
or errors contained within the site. Errors and Omissions Excepted.