| ...... | |
| --- | --- |
| | |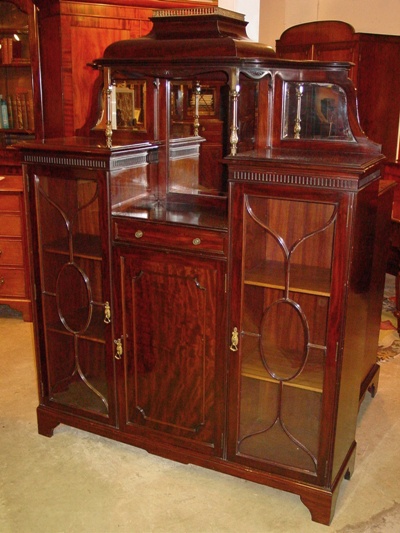 Stock no: 50155

An early 20th century mahogany Display Cabinet made by 'Robson & Sons of Newcastle on Tyne'.
53"w x 69"h x 15"d
Circa 1920's
ROBSON.& SONS, Cabinet makers, 42, Northumberland Street, Newcastle-on-Tyne

In 1830 William Hampton opened a shop for the sale of general household furniture in Cranbourn Street. He was subsequently joined by his two sons George and William Powell (the sons of George Hampton; Harold, Fred and Clarence also later entered the business). In 1869 Hamptons and Sons Ltd expanded with new premises on the corner site comprising 8 Pall Mall East and 1-3 Dorset Place (now Whitcomb Street). As the firm continued to expand it took over control of a number of other firms, beginning with James Coulson and Co of Lisburn, Northern Ireland in 1898, and in the early 1950's Robson and Sons Ltd of Newcastle-upon-Tyne.

£695


Due to our large selection of  furniture we are unable to display all of the items in stock .
If after looking through our web site you can't find what you are looking for
Email us at: enquiries@gatewayantiques.co.uk and we will get back to you with a picture,
sizes and any other information that you require. 
Copyright Notice
All pages contained within this site, inclusive of images and text are copyright © 2011 Gateway Antiques,
unless otherwise noted. Reproduction without direct written authorisation is prohibited.
Terms and Conditions of Use
This site is provided with no warranty of any kind. Gateway Antiques are not liable for any misinformation
or errors contained within the site. Errors and Omissions Excepted.